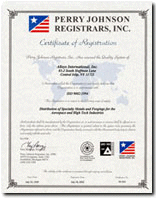 Quality control procedures conform to all FAA standards. Quality management system certified to ISO-9001-2008.
Non-destructive
Alloys International provides complete non-destructive testing services – including surface inspection by visual and fluorescent penetrant dye testing. For magnetic material, magnetic particle inspection is used. Examination and inspection for internal defects by ultrasonic testing completes the range of techniques offered.
Traceability
Quality assurance means traceability.  At Alloys International, incoming material is documented at every possible step through final inspection and shipment. All documents are maintained 10 years for immediate recall.
Contact us to find out more about how we can help you. You can also fill out our RFQ form.
ISO 9001:2008 Certified – PDF Download
Testimonials:
"Quality and delivery have been great!"- Castle Metals Aerospace